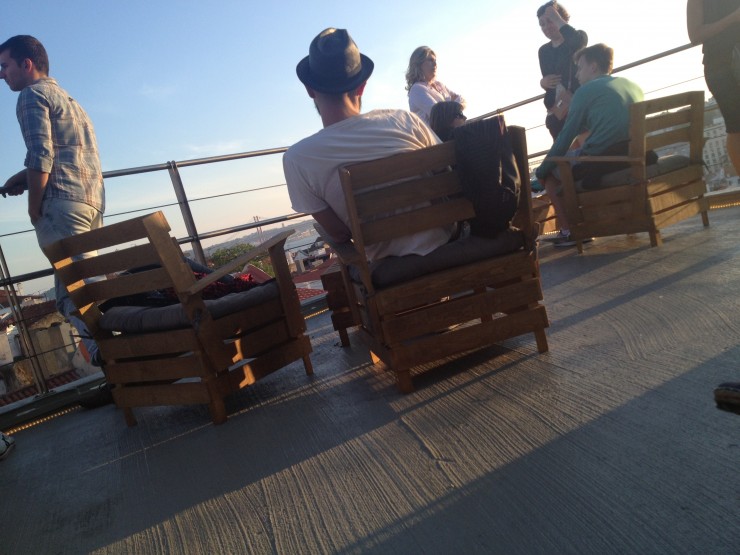 Review :
« Park » is a trendy new rooftop bar in Lisbon perched in the 6th floor of a parking lot of the street Calçada doh Combro, 58 district Santa Catarina. To reach this really nice place, it is necessary to cross the parking lot, take elevator which brings you to the 5th floor and then, walk some meters by feet. Well, we reassure you, nothing complicated, everything is marked out well. Let us go into the heart of the matter : the place is simply brilliant, the style, the space, the view, this place would be the ideal place in Lisbon if it had some clinkers….
Prices are not expensive, here a cocktail costs 7 euros. Moreover, we recommend you the really more fresh and economic jugs of sangria which consisted in a mix of proseco (Italian frizzante white wine) and red berries for 15 euros a litter.
Well let us say, first clinker is the food. For both of us, hamburgers (8 euros) were cold and the meat was not tasty at all, served with homemade chips.
The second (small) clinker is the barmen. Indeed, there are not really pros of cocktails. Do not expect creativity or "give me your taste and I will give you a special drink". Music is really nice (marvin gaye, ottis redding or more indie rock) and not to loud and the atmosphere is "green spirit": bushes, large wooden benches and armchairs, even a wooden deer !
To summarize : a little bit disappointed but the place has to be visited, at least to take advantage of the view and the atmosphere.
And do not forget your sweat, even in august. You will be well prepared for a long date between you and Lisbon, enjoy !
Ranking :
Plan :
Pictures :