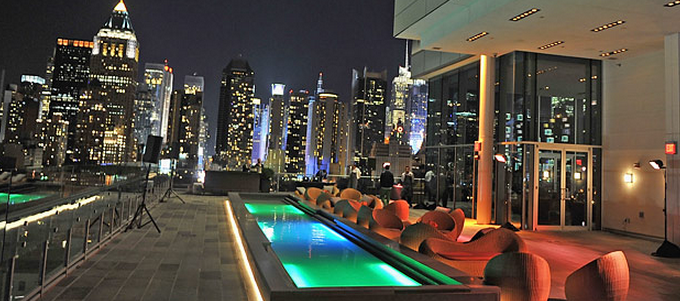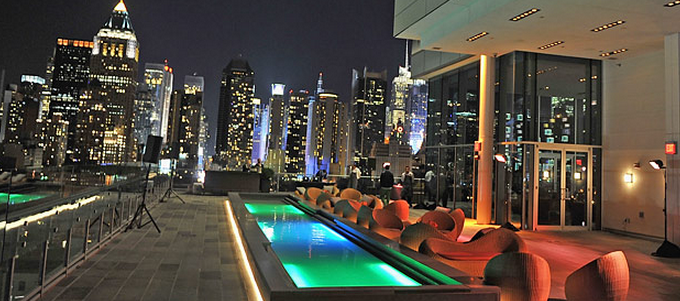 Review :
This bar is located on 16tm floor of Hôtel Ink (653 11th Ave et 48th street), he replace a old printing industrie but we can't see their glory past. This (cool) Rooftop Bar has a perfect place to discover the skyline of Midtown and the river Hudson
To acces on this rooftop bar, we make the queue on the elevator, dears youngs friends the id is controled. The bouncer is so cool. When i arrived at the floor, i discover a perfect place with big windows and big tables, very chic. During the winter, a big tarpaulin covers the terrace, we had a good time beside the chimney installed for the occassion.
If the weather is good, it's a real pleasure to stay on the terrace, the swimming pool give a special atmosphere, if you are courageous you can test it.
The view is….. WHAOUUU (sorry it's french onomatopoeia) perfect ! for me it's real choc to discover the buildings of New York especially during the night
The drinks is lit beat expensives (16$) good but not extraordinary, take a glasse of Proseco (12$) or a simple beer (11$). The food is correct, a plate of charcuterie / cheese ($ 19 each).
This rooftop bars as rooftop THe Standard but less snob therefore very appreciable. To resume, my experience, this roof top is in top 10 of the bests rooftop bars, come to discover a special spot specialy when the sun sets.
Ranking :
Plan :
Pictures :